African Safari using Tissue Paper and Sharpie
I love exploring the life of animals with my students. For this lesson we studied African wildlife living in the savannah. To get my students really pumped we watched The Jeff Corwin Experience: Investigation Earth on discoveryeducation.com.
In this multi-media art project, the African savannah is the central theme for our wildlife habitat. A savannah is a grassland ecosystem made up of small, widely spaced trees with a canopy that does not close providing enough light to create a grassy base for animals to munch on or hide in. Using the web we visited countries where you would find savannahs like Kenya, Botswana and Namibia and explored its people, art and culture. Try the University of Wisconsin's Digital Collection on the People and Wildlife of the Savannah.
We learned a few key visual elements in a savannah include short trees with elongated branches, tall grass, and wide open skies. Ask students to draw their version with a pencil before outlining it with a permanent marker.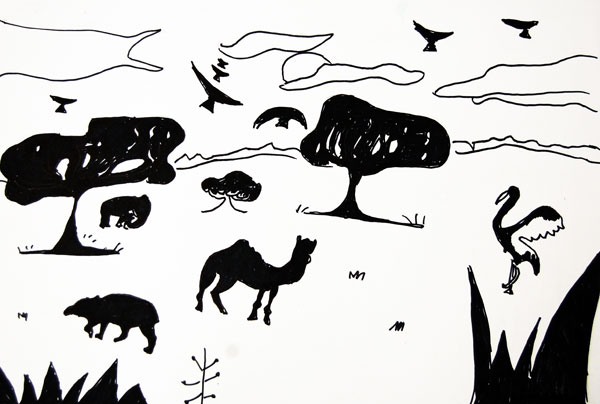 Next, draw in some African wildlife like elephants, rhinos or giraffes. For silhouettes made by a sunset use permanent marker to fill in the wildlife and vegetation.
Use bits of tissue paper to get those warm and bright colors of an African sunset. Mix up equal parts glue with water and brush on your mixture to adhere the tissue paper. Let dry over night. I tell my students to create depth by overlapping the tissue paper.
Once dry, go over the entire surface with ModPodge for extra shine and to keep loose bits of tissue paper from straying. For the border I dipped a foam brush in India ink and danced it around the edge.